Josh's Muscle Car Parts is excited to announce our Reproduction AMX Javelin Taillight Lenses. These are very nice quality reproduction pieces that will help get your AMC back on the road. These pieces will fit 1968-1969 models.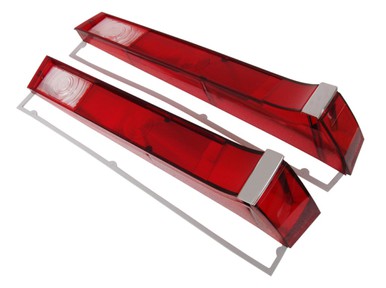 Our new reproduction taillight lenses for 1968-69 AMC AMX and Javelin models. Enhance the appearance of your vehicle by replacing damaged or missing original tail lamp lenses with these high-quality factory-style replacements. These replacement lenses are made to original factory specifications and feature all correct markings for a precise fit and authentic look. Made to fit with original or aftermarket reproduction bezels.
Like with all of Josh's Muscle Car Parts reproduction products, we make sure these pieces are of the highest quality and best fitting on the market. Our AMX Javelin Taillight Lenses will certainly make your AMC look original again.
We keep these Reproduction AMX Javelin Taillight Lenses in stock almost year round. So Summer or Winter, if you are in the middle of your restoration and looking for a place to quickly ship out these beautiful reproductions, then we are your place.
Many 1968-1969 AMC AMX and Javelin models saw these tail lights wear out and look bad within 20 years. Once you install these beauties you'll not have to worry about that again. Available for purchase here.